It's been a year and a half since Josh Freeman looked comfortable throwing long routes.  The gargantuan passer showcased improved footwork and decent timing, but the nagging inaccuracy from a year ago still pulls his throws off course.  It's preseason, and as fans, we're privy only to the superficial workings of Mike Sullivan's offense… but so far, despite long-ball promises from the coaching staff, Josh seems hesitant throwing down field.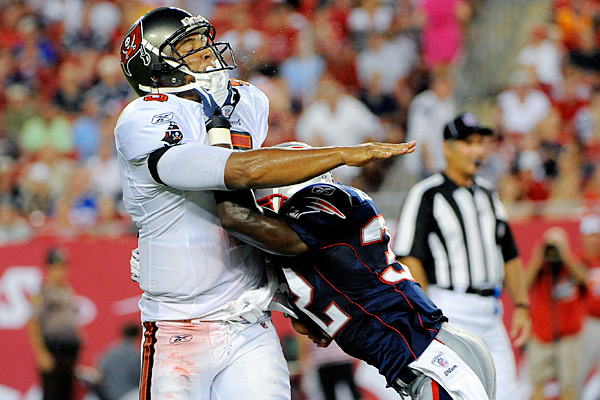 Tampa Bay's first-team defense creamed New England, but the 20-7 end result of the first-string scrimmage was a product of Mark Barron, Ronde Barber, Michael Bennett, and smothering, opportunistic defense.  The offense stumbled in both passing and running, and the struggles aren't mutually exclusive.
If the Buccaneers expect the running game to flourish, then Freeman needs to throw deep.  It's why they spent $55 million on Vincent Jackson.  Josh doesn't need to complete deep passes, but the threat of a quick score synergizes wonderfully with the power running game; it softens safeties, imbalances the pass rush, and supercharges a rushing offense.  A strong ground game opens the play action attack, and the cycle restarts.  One thing leads into the next.  Doug Martin, LeGarrette Blount, and the Bucs have the talent to run for 2500 yards, and if the offense is built and conducted properly, Tampa Bay's record should be directly attached to their rushing numbers.
But it starts with Freeman.
The defense looks to have found some footing.  Losing Gerald McCoy and Adrian Clayborn to injuries in the first quarter didn't hinder the front seven, who, for the first time in a long while, brought the boom of a professional defense.  The sheer physicality of the defensive line — especially Bennett — shattered the Patriot pocket for most of the evening.
The Patriots (admittedly without Wes Welker) looked outmatched against the Tampa Bay defense.  Michael Smith looked like Maurice Jones-Drew on kick return duty.  Vincent Jackson's single-drive appearance was brief but promising.  Doug Martin did his best Earnest Graham impression in the passing game.
It doesn't pay to get excited over preseason action, but Friday's game was a lot more comfortable than the 31-14 beatdown New England delivered a season ago.