The Good
Head coach Raheem Morris promised "changes" in his post-game press conference.  Believe it when you see it, but it's something.  The normally level-headed Buccaneer figurehead seemed visibly perturbed by the 37-9 loss to Houston — which was appropriate — but it was a far deviation from his normal, cliched, passive responses to reporters and media.  Maybe, for the first time in ten weeks — scratch that, the first time in his career — he's not telling the media what they want to hear?
Hey, it's a start.
The Bad
NFL teams don't spend much time on tackling.  It's a basic skill, learned in youth football, practiced in high school, and — usually — perfected in college.  It's a bread-and-butter element to the sport, and many times, professional teams forgo the tackling drills in favor of more cerebral practices.
Tampa Bay might consider revising that practice schedule.  They surrendered an 80-yard score on the first play of the game — Houston's Jacoby Jones broke two down-field tackles and raced the distance with, at best, apathetic pursuit — and then gave up a 78-yard touchdown, in which Arian Foster caught a screen, broke three sad tackle attempts by Buccaneer defenders, and scored easily from 234 feet.
There's no discipline on defense, and it's killing this team.  They're on pace to surrender a franchise-worst in total yards, and haven't even feigned competency through the last few weeks.  That being said, they're still not the worst unit on this team…
The Ugly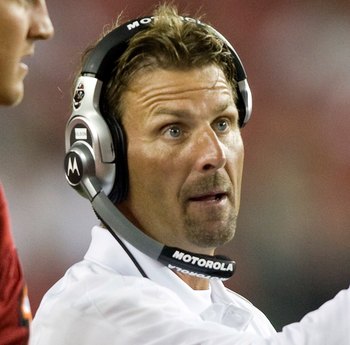 A first down is not a victory, but in Greg Olson's offense, it sure feels like one.  It's almost a religious experience when Freeman and company move the chains; every completion seems punctuated with a collective exhale from the fans, and the players — from quarterback, to tight end, to receiver, to lineman — don't look comfortable employing the scheme.  Each throw is born of hesitation and timidity.  Each receiver is running his routes thoughtfully instead of reactively.
They exude confusion instead of confidence, and the most frustrating thing about Tampa's offensive struggles?  They don't seem to be going away.  These Buccaneers — the same team that stormed to 10-6 a season ago — is on the verge of becoming the first team in franchise history without a first-quarter offensive touchdown.  The 1976 squad, one of the worst offenses ever, managed two first-quarter touchdowns in 14 games.
Greg Olson needs to make changes before he makes history.