Blain Gabbert?  Jarett Dillard?  A 41-14 loss to the Jaguars?  Really?
The Good
It took 13 games, 12 plays, and a fourth down conversion, but the Buccaneers finally recorded a first quarter offensive touchdown.  Greg Olson's fourth down call — a playaction option bootleg — was what Tampa fans have been screaming for all season; it gave Josh Freeman the opportunity to utilize his ridiculous athleticism (and run for the first if he needed to), survey the deep field, and fire a pass down field while the defense flooded toward the scrambling passer.
The offense — "simplified" according to Olson — looked downright proficient on that initial drive.  But nothing gold can stay.  A quarter later, the Buccaneers were back to their old, inefficient ways.
The Bad
Five fumbles.  Three interceptions.  Seven turnovers.  12 penalties.  Why isn't this team improving?  The level of competition is down — the Panthers and Jaguars certainly can't match swords with the Saints and Packers — so why do the Buccaneers look worse than they have all season?  In back-to-back weeks, they've been annihilated by bad teams, substituting easy victories for demoralizing blowouts.
The players can say whatever they'd like to the media.  They can talk about effort, and discipline, and perseverance in their post game conferences, but the product doesn't lie: the Buccaneers have surrendered their season, and none of them look like they care anymore.
The Ugly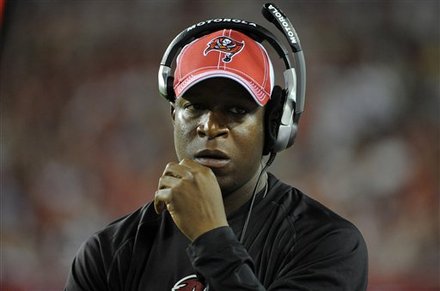 It's been a nightmare season.  Coming into 2011, the Buccaneers felt certain they employed a trio of Pro Bowlers in Josh Freeman, Mike Williams, and LeGarrette Blount.  They had a young, athletic defense on the rise, and after two seasons, Raheem Morris's Buccaneers evolved into the team that no one wanted to play.
Eleven months later, as we approach the exit to the 2011 season, only one thing is certain: the Bucs have a ton of work to do, and — judging by their dispirited play — Morris and company might not be around to oversee it.
Freeman, Williams, Blount, Aqib Talib, Gerald McCoy, and Kellen Winslow — all potential cornerstones a year ago — are huge question marks going into 2012.  The Buccaneers can't stop the run, can't stop the pass, can't hope to move the ball offensively, and might be the worst team in the NFC.
What else is there to say?