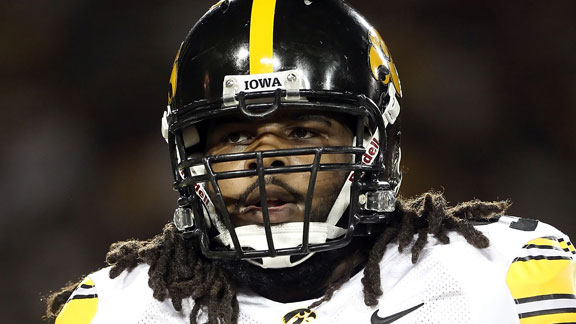 With the 20th overall selection, in the first round of the 2011 NFL Draft. The Tampa Bay Buccaneers select Iowa  DE Adrian Clayborn . Bucs Central will have more information and our reaction to the selection of Clayborn shortly.
Update: For comments from general manager Mark Dominik and head coach Raheem Morris on the thought process behind the selection of Adrian Clayborn click on link.
To read what Clayborn had to say, shortly after he was drafted by the Bucs. Head on over to JoeBucsfan.com as one of the Joe's has got you covered.
Below you will find the complete scouting report on Clayborn from Russ Lande, of GMjr and the Sporting News.
If you need to enlarge the report, just double click on it.
Clayborn who visited the Bucs on the 25 April, and whom PewterReport.com speculated could be 'The Pick" evidently blew both Dominik and Morris out of the water with his physicality and play on the field, but really shined through with his aggressive take no prisoners demeanor and leadership qualities in person.
Overall, with the Bucs looking to become tougher against the run – and knowing Clayborn played in a two-gap scheme in college his ability to use his hands and play stout at the point of attack along with being a relentless bulldog when he pins his ears back should endear himself to Buccaneer fans.
I might be one of a very few who actually like the pick! His leadership qualities, use of hands, physical play, stamina, non-stop motor and skill set is something the Bucs have not had in a  defensive end before. It will be an interesting journey watching him grow as a pro.
Bio: Adrian Clayborn, born 6 July 1988
Height: 6025
Weight: 281
40 Yrd Dash: 4.78
20 Yrd Dash: 2.69
10 Yrd Dash: 1.61
225 Lb. Bench Reps: 17
Vertical Jump: 35 1/2
Broad Jump: 09'06"
20 Yrd Shuttle: 4.13
3-Cone Drill: 7.08