In 36 years, the Tampa Bay Buccaneers have had 32 players selected to the Pro Bowl.  Two players earned the designation without starting a single game.  Who were they?
–
The first was tight end Dave Moore.  In 2006, he was the last addition to Sean Payton's NFC all-star roster.  Moore had proven himself as one of the league's most consistent long snappers — a position coach Payton needed to fill.  But more than that, Moore had been the model of longevity on the top shelf of professional sports, and his selection was as much a show of admiration as it was utility.  In 1992, as a seventh-round rookie, Moore had barely stumbled out of camp before he was cut by the Dolphins.  Sam Wyche and the Buccaneers nabbed him from the waiver wire, found a place for him, and watched him outlast most of his contemporaries.
There were only two men from the 1992 draft class to play longer than Dave Moore: kicker Jason Hanson, and quarterback Brad Johnson.  Only three tight ends in history — Trey Junkin, Tony Gonzalez, and Pete Metzelaars — have appeared in more games.  Moore's hunger led to a productive 15-year career, and at age 37, that unrivaled experience earned him his only Pro Bowl appearance and a perfect punctuation point on an ample body of work.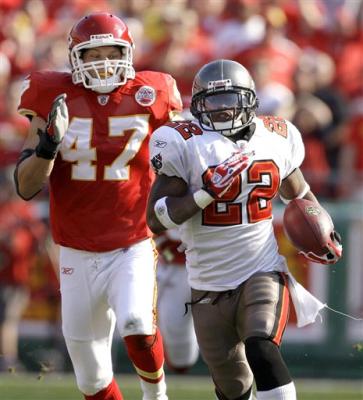 Two years later, an undrafted unknown named Clifton Smith earned a camp invite in Tampa.  He failed to make any impact from scrimmage and wasn't given a fair shake at the return duties — the Buccaneers decided to employ speedy second-round pick Dexter Jackson on special teams — and Smith was cut before the start of the season.  But weeks passed, and the Dexter Jackson experiment was failing.  The minute wide receiver from Appalachian State had the speed and shiftiness of a world-class return man, but Jackson had a bad habit of collapsing mid-stride before contacting the defense.  After nine weeks of mounting frustration, Jackson was demoted and Smith was promoted to Tampa's active roster.
Clifton had a decent debut in Jackson's stead, but the following week, Smith exploded into the national consciousness.  His 97-yard kickoff return touchdown — the second in Buccaneer history — sparked a three-touchdown comeback against Kansas City.  Two weeks later, a 70-yard punt return score versus Detroit helped stretch the lead against the Lions.
Despite missing the first seven games of 2008, Smith's 1310 return yards ranked second in Buccaneer history, and proved enough to earn him a trip to the Pro Bowl.  He became the only undrafted rookie Pro Bowler of the 21st century, and the first non-kicker since Seattle's Rufus Porter in 1988.
Neither Moore (a second-string tight end) nor Smith (the replacement return man) started a single game in their all-star seasons.