Rookies thrive in Tampa Bay.  But the unfortunate reality is, sometimes sophomores don't.
For years, Buc fans have been taunted with lustrous rookie campaigns — David Greenwood's 1985, Errict Rhett's 1994, Arron Sears's 2007 — only to watch promising careers dissolve in the following seasons, be it by injury, apathy, or general misfortune.
Here are the best of them: men who started quickly, taking the NFL learning curve at 100 miles per hour.  They each bettered their team, posted Pro Bowl numbers, and set the standard for first-year players.  Not all of them survived to year two.
But that's a topic for another list.
5. Cadillac Williams (290 carries, 1178 yards, 6 touchdowns)

No one has started faster.  Ever.
Carnell "Cadillac" Williams — the 5th overall pick in 2005 — was the third running back drafted, but the first to make an impact.  He punctuated his NFL debut with a 71-yard touchdown run through the heart of Minnesota's defense, and followed up his 148-yard introduction with 128 yards against the Buffalo Bills.  Midway through the contest, he broke into the open field and — instead of juking toward the sideline and a possible running lane — he cut back, lowered his head, and rocked opposing safety Lawyer Milloy because he "wanted to feel it."
After three games, Williams led the league with an NFL rookie-record 434 yards rushing.  He'd win the Offensive Rookie of the Year award at season's end, and despite slowing down as the year wore on, he looked to be the 10-year offensive anchor that Tampa Bay needed to reascend to contention.
4. Michael Clayton (80 catches, 1193 yards, 7 touchdowns)

In 2004, the Bucs brought in Joey Galloway — a stoic speedster from Dallas —  to help replace All-Pro Problem Child Keyshawn Johnson at wide receiver.  The investment would turn out to be one of the best decisions of Jon Gruden's career, but it didn't pay off until 2005.  In the first game of 2004, Galloway went down after diving for a long ball and would miss the next six weeks of the season.
Now, tomes have been written about Michael Clayton criticizing his hands, his attitude, his weight, and his work ethic.  He's been called a slouch, a bum, a deadbeat, and a waste of money, and he may have been all of those things, but in 2004 — above all — he was an opportunist.
The rookie wideout from LSU became Tampa's top receiver in Galloway's absence.  He started slowly but gained momentum as the season progressed, scoring his first touchdown in Week 4 — a 51-yard broken play against John Lynch and the Denver Broncos — memorable because Clayton broke a tackle, left his helmet at midfield and scored bare-headed, screaming at the crowd.  He'd end the season with a bevy of circus catches, crushing blocks, and every Buccaneer rookie receiving record.
3. Hugh Green (151 tackles, 3 sacks, 2 interceptions, 7 passes defended)

South Carolina's George Rogers won the 1980 Heisman Trophy, but Hugh Green was the best player in college football.  The 225-pound defensive end was a whirlwind of splash plays for the Pittsburgh Panthers, finishing his senior season with 123 tackles, 17 sacks, and 7 forced fumbles.  The Buccaneers drafted him seventh overall and moved the defensive dynamo to linebacker.
His presence instilled fire in Tampa's defense, helping it rise from the depths of mediocrity and shaping it into one of the NFL's elite squads in 1981.  The tenacious Green proved nearly indestructible, starting all 16 games and rarely missing a play during his rookie season, despite his reckless pursuit and crushing hits.
He was snubbed from the 1981 Pro Bowl — having outplayed Minnesota's Matt Blair — but indemnified the rejection by making the cut in 1982 and 1983.
2. Mike Williams (65 catches, 964 yards, 11 touchdowns)

"I'm going to be the steal of this draft."
The words of receiver Mike Williams — fourth-round selection out of Syracuse — before he was drafted.  And, as bold as that promise was, it might've been an understatement.  Williams easily outproduced the draft's other big-name receivers like Dez Bryant, Demaryius Thomas, Golden Tate, and teammate Arrelious Benn, but save for New England tight end Rob Gronkowski, Williams might've been the best player selected after the first round.
After starting quickly in camp, he became Josh Freeman's favorite target and proved nearly unstoppable in the red zone.  Williams finished with a Buccaneer-record 11 touchdown catches — the most by any NFL rookie in 11 seasons — and sparked Tampa's surprisingly efficient offensive attack, showing flashes of a future perennial Pro Bowler in nearly every game.
1. Warrick Dunn (1617 all-purpose yards, 7 touchdowns)

Collectively, in 1996, Tampa Bay averaged 3.36 yards per rush.  Errict Rhett's holdout paved the way for newcomers Reggie Brooks and Mike Alstott, but Alstott lacked any serious breakaway ability, and Brooks — a free agent pickup who spent the second half of the season on the inactive list — had left the last of his talent in Washington.  Rhett returned in late October, and his 3.06 average nearly matched Reggie Cobb's hysterical 1993 season as the low point in Buccaneer rushing history.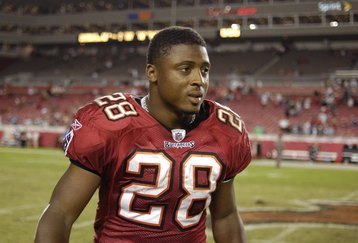 Enter Warrick Dunn.  The scatback from Florida State was drafted for his character and consistency, in hopes that his explosiveness could ignite a stagnate Tampa offense: a heavy task for an undersized rookie, but Dunn more than delivered.
In 1997, the team jumped 11 ranks in total rushing yards — topping the previous year's production by 345 yards on only seven more attempts — and Dunn became the focal point of Tampa's offense.  He touched the ball 274 times, shattering Rhett's rookie record for total yardage by almost 500 yards.  He was Tampa's leader in rushes, rushing yards, receptions, and yards from scrimmage, and accounted for nearly 37 percent of the team's offensive production that season.
He'd end the season as the NFL's Offensive Rookie of the Year, and at 22 years old, he'd become the first offensive player to represent Tampa Bay in the Pro Bowl in over a decade.